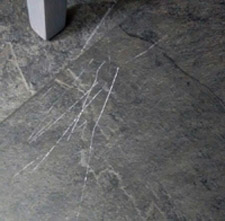 Het is helaas niet altijd te voorkomen dat er hinderlijke krassen ontstaan in een mooie PVC vloer. Indien het een klik PVC vloer betreft zou de consument kunnen besluiten het beschadigde deel te vervangen. Bij PVC Glue-down vloeren is het vervangen van een paneel iets lastiger.
Om krassen weg te werken of zoveel mogelijk te camoufleren adviseren wij 2 verschillende producten:
Dr. Schutz Scratchfix: bekijk HIER het instructiefilmpje
Quick Step herstellingskit: bekijk HIER het instructiefilmpje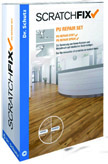 Een goede aanvulling op het assortiment van Dr. Schutz is de Scratchfix PU Reparatiestift. Deze speciale stift is zeer geschikt om enkele krassen in elastische vloeren op te vullen. De stift is toepasbaar op Lino of PVC PU vloeren. De PU Reparatiestift wordt geleverd per set met de PU Reparatiespray, inclusief penseel, schuurpad, katoenen doek en kunststof schraper.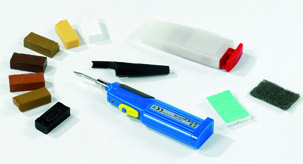 Kleine beschadigingen kun je gemakkelijk in de oorspronkelijke kleur herstellen dankzij de Quick-Step herstellingskit. Boots gewoon de kleur van de beschadigde planken na met een van de zeven wasblokjes die speciaal zijn geselecteerd om alle vloerbekledingskleuren te dekken. De herstellingskit bevat een smeltmes, een reinigingskam en zeven wasblokjes voor alle vloerkleuren. Bekijk de kleurentabel om precies te weten welke kleuren was je moet mengen om de kleur van de vloer te krijgen.

Krassen en beschadigingen voorkomen is natuurlijk altijd beter. Een goede entree-mat draagt hier natuurlijk aan bij. Het beschermen van meubels/stoelpoten is ook van wezenlijk belang. Hiervoor hebben wij een eigen assortiment viltglijders. Daarnaast verkopen wij een zeer uitgebreide collectie van Scratch no more.