PVC vloeren, de juiste keuze?

Recente communicatie in de vakmedia heeft bij diverse dealers tot vragen geleid. Daarom delen we graag onderstaande uitleg van mFLOR met u.

"PVC, dat is toch chemisch en schadelijk?"

De basis van de vloer, PVC, is verkrijgbaar in veel verschillende kwaliteitsniveaus. PVC is een chemisch product wat van nature keihard is. Om dit te kunnen verwerken worden er weekmakers aan toegevoegd om het product flexibeler en verwerkbaar te maken. De keuze voor de juiste grondstoffen van de PVC zelf en van de weekmaker is dan ook van groot belang om uw gezondheid en welzijn te kunnen waarborgen. Waar moet u dan op letten bij de kwaliteit van een PVC vloer? Wij zetten het op een rij:
Productsamenstelling
Chemicaliën die schadelijk kunnen zijn voor de gezondheid of het milieu worden in Europa centraal geclassificeerd door de 'European Chemicals Agency (ECHA)' in het Europees Regelement nr. 1907/2006. Dit gebeurt door middel van het systeem 'Registration, Evaluation, Authorisation and restriction of Chemicals (REACH)'. Voor specifieke producten met een hoog risico, zoals speelgoed en kinderverzorgingsartikelen die in de mond gestopt mogen worden, is exact voorgeschreven welke chemicaliën (waaronder ftalaten) er wel of niet in mogen voorkomen en in welke hoeveelheden. Deze eisen zijn veel strenger dan voor andere producten, zoals vloeren of meubels.
Bij mFLOR en Solcora stellen we veiligheid en gezondheid boven alles. Om die reden voldoen onze designvloeren niet alleen aan de strengste normen van ECHA voor interieurtoepassingen, maar voldoen ze zelfs aan dezelfde norm die gesteld is voor kunststof materialen in speelgoed en kinderverzorgingsartikelen die in de mond gestopt mogen worden. mFLOR maakt dus enkel gebruik van een ftalaatvrije weekmaker. Als het aan onze productie ligt, kan er van de vloer gegeten worden.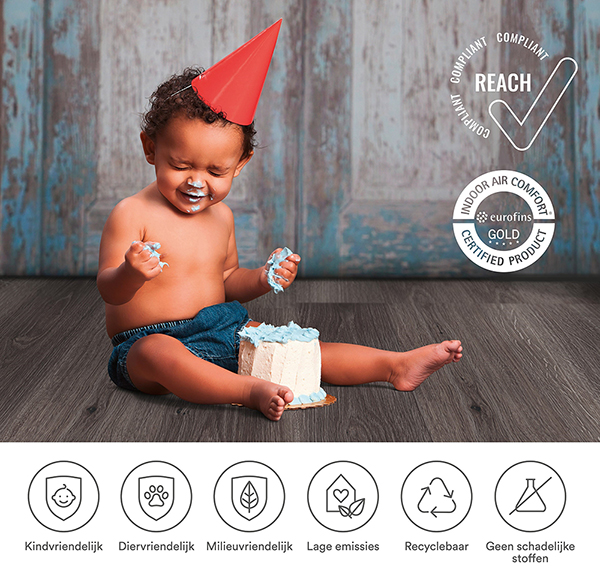 Emissies
Emissies zijn Vluchtige Organische Stoffen die vrijkomen na de bewerking van een product. Iedereen kent bijvoorbeeld de geur van een nieuwe auto. Deze geur wordt veroorzaakt door emissies. Na verloop van tijd worden deze steeds minder. De hoeveelheid emissies die vrijkomen is afhankelijk van de kwaliteit van het product. Hoe meer emissies, hoe meer last je hiervan kunt ervaren, met vervelende klachten zoals hoofdpijn als gevolg. Aangezien je veel tijd op een vloer doorbrengt, is het van belang dat deze emissies tot een minimum worden beperkt.

Europese normen voor wat betreft emissies zijn er helaas nog niet. Nederland kent bijvoorbeeld helemaal geen norm, sommige landen hebben een eigen norm opgesteld, maar deze zijn allemaal weer verschillend qua inhoud. Naast de verschillende landelijke normen, zijn er diverse vrijwillige normen voor dit onderwerp ontwikkeld. Al deze normen worden beoordeeld door middel van gestandaardiseerde laboratorium testmethodes.

Al deze verschillende normen kunnen voor nogal wat verwarring zorgen. Daarom heeft Eurofins, een vooraanstaand, internationaal testlaboratorium, een eigen, meer uitgebreide 'Indoor Air Quality' norm ontwikkeld. Een uitbreiding daarop is de 'Indoor Air Quality Gold Standard', waarbij op een nog uitgebreider aantal stoffen getest wordt en de toegestane emissies nog lager zijn dan bij ieder andere nationale norm.

Omdat gezondheid en milieu voor mFLOR erg belangrijk zijn, beschikken al onze designvloeren over zeer lage emissiewaarden. Niet voor niets beschikken al onze producten over het Eurofins Indoor Air Certificate Gold, waarbij onze producten meer dan voldoen aan de allerstrengste eisen.

Kortom, een PVC vloer is een praktische, sterke en comfortabele vloer.